Corporate Training, Wellness, EAP
Ashwani Deswal Sir is a phenomenal corporate trainer & leadership expert. From the day I met him, I found a CHANGE in myself.
Now I can give the Best presentation in my whole company. I can CRACK as many SALES as I want to in my office because now I know the art. The practical communication & wellness tools come in handy as they are very effective.
He made me realize my hidden capabilities and the ability to do everything in the world. He is the best Wellness Coach & Corporate trainer you would meet. He has changed the way I see life. The wellness & Mindfulness tools and wisdom shared has transformed my life. His way of training is very unique.
Life Coaching sessions with Sir broke my limitations and brought clarity of mind. Now I am pretty much confident about facing the world and living my life to the best. Thank You sir, you are an amazing life coach.
While attending his wellness & mindfulness session, I was feeling myself in another world and I think the world where I was that was the world for me. No thoughts, no situations, no life. It's just me and my peace of mind. He is the best Life coach & Corporate trainer. 
Ashwani sir is totally a different person. He has a different aura. He is a really good mindfulness expert who is full of life, passion & sincerity. I really really liked him because he speaks everything with such ease. Thank you for everything.
Ashwani Deswal Sir is the best corporate trainer I have seen. The way he shares and explains with meaningful examples is unique and amazing. The corporate wellness tools that he shared are very effective. Just in a few seconds you can feel energized and refreshed. He is a great Life Coach as well. Ashwani Sir taught me the art of doing things, He taught me how to Breathe.
From him, I learnt the Art of Giving and being Grateful in life. He has helped me be a better leader to my team.
The mindfulness sessions have improved focus, clarity and efficiency. Taking sessions, I have come closer to myself.
Ashwani is a wonderful Life Coach & Corporate Trainer. I have had an amazing journey so far with him. His commitment is commendable. He is amazing as a person, understands your issues and tries to resolve them by getting to the root cause. He is very patient and a good listener. After taking his sessions, I felt a sense of calmness within me and I cannot explain the confidence I gained through out the process. He definitely helps you change the way you see and perceive things which have helped me deal with various situations better.
I have seen a tremendous change in me.He provides you with innumerable corporate wellness tools and life-changing rituals that help you and are also very practical in today's world. He comes in with a smile every session and leaves you with a big smile.
He would also make sure to take the feedback on all the tools that he gives you and follows up on it. Ashwani is a great wellness coach & a kind human being who makes this world a better place to live in. I would highly recommend him for anyone who just feels the need to regain happiness and content in their life.
Earlier I used to have anger issues and I was not happy with myself. But after taking sessions from Ashwani Deswal, a great Life coach, I feel happy and I am healthier than before.
I feel he has excellent skills in identifying the issues and providing simple routine changes which give maximum impact. The corporate wellness tools shared are very effective.
The first day I met Ashwani Deswal was a completely Life Changing experience. The kind of energies I felt inside me was like never before. Earlier I had health issues and I was not even doing well professionally. But after taking corporate wellness sessions from him, I have not only improved my health considerably but also performing well in my company.
Now I am much more efficient, creative and productive. I have never been more happy and content before. Ashwani Deswal is the best corporate trainer and wellness coach. Mindfulness & Meditation sessions were also very effective. It feels like we are in another world and every cell of the body feels relaxed & rejuvenated.
I got in touch with him when I lost hope in life. There were so many things which were otherwise in my life. And since the first session, I felt comfortable to share and ask all I wanted to and he always listened with patience and coached me to create the changes and results in my life. He is the best Corporate trainer you would come across.
He helped me to rise – to stand once again in my life. He is a great life coach and mindfulness expert. Thank you so much for empowering me.
Earlier I used to be very stressed due to various factors resulting in a negative outlook on life and low energy levels. Right from the 1st training session with Ashwani Deswal, I felt such a massive shift. I felt more energetic and stronger.
I followed the corporate wellness tools shared by him and felt even stronger. I feel more positive and my family has also noticed that. With his guidance, I have restored health & balance in life. Ashwani Deswal is the best corporate trainer & wellness coach.
Ashwani Deswal Sir is a top-class corporate Trainer, Life coach, Mindfulness Expert & wellness coach. He is an amazing human being.
My life has changed with lots of results and success.
As a result of his Corporate Training & corporate wellness program, I have been promoted to handle international clients. I am succeeding progressively all thanks to sir. 
I've had pleasure of knowing Ashwani for long back. He is a self-motivated and highly energetic Corporate Trainer.
The work that he is doing to empower individuals in leadership and personality is great. There is a great need to motivate individuals and show them the right path. Best wishes for future endeavors
Before I entered for the session, I was very dull and sleepy. The moment the session started, I started feeling positive. The environment was very calm and relaxing. Ashwani sir is a very nice Life coach & corporate trainer.
The session went so deep that I got emotional. I got so connected with all his teachings. I felt very energetic and stress-free. Never felt so calm and peaceful. I felt like I was in heaven. It was a very beautiful session. Thank you, sir.
Mr. Ashwani Deswal is a highly PASSIONATE and ENERGETIC corporate trainer. His Expertise in mindfulness & wellness helps you to improve your overall wellbeing. With sir's guidance, I gained confidence, clarity of mind and became more focused & productive
With his corporate wellness programs, You not only enhance your focus, productivity & efficiency but also learn the art of seeing LIFE from a Different Perspective.
Attending Ashwani sir's session was really an awesome experience.  Full of  Positive energy and liveliness. I learnt a lot from this wellness workshop. And another great thing is that I can practice these corporate wellness tools at home also.
Mr Ashwani Deswal is an amazing corporate trainer and wellness coach.  The entire workshop was so much engaging, all stress gone. Trust me I would love to attend it again.
Never seen such a passionate focused corporate trainer. Ashwani is bound to have a positive influence on anyone and everyone who has the fortune to rub shoulders with him.
He connects well with his audience by getting on a level that everyone is comfortable by bringing "spiritual" not religious flavour into the program which does cut the difference. His tonality is therefore very relationship based which organisations need so badly in the hard wired world of technology.
Ashwani Deswal, You are doing Great work in Sharing your expertise on Personality Enhancement and Communication skills with all the needed people.
You are an Excellent corporate trainer. Keep touching more lives.
Ashwani is an extraordinary and exceptional creative thinker. He is a very passionate and confident corporate trainer. He is a very influential and motivational speaker. Every meeting with him leaves me pumped up and full of POSITIVE ENERGY.
Ashwani Deswal is a winner and a can-do person! He has an impressive creative energy and ability to motivate everyone around him to do the best they can. I appreciate the passion in approach to his work & deeply respect his way of doing things.
Ashwani Deswal is a delightful person whose energy is contagious. I admire his intellect and intuition.
He is fun to work with and makes you feel at ease. He fine tunes his frequency to match the team's. Ashwani Deswal is always a burst of energy.
Ashwani Deswal sir has helped me enhance my overall personality. He is an amazing corporate trainer. I have improved a lot and I am much more confident now. The way sir gives practical examples is very unique and keeps training very engaging. Thank you Ashwani sir.
Corporate wellness training sessions with Ashwani Deswal sir have brought a huge shift in my life.  I released huge guilt of the past. Now I feel light, relaxed & happy. Regularly having sessions has restored health and balance in life.
Also, I am now more dedicated towards work and have improved my efficiency and productivity. Ashwani Deswal is a great corporate trainer and Life coach. He is doing great work empowering others to live a more qualitative life.
I used to get angry and irritated quite often. After a few sessions of corporate wellness program with Ashwani Deswal Sir, I experienced a great shift in me.
I handle situations much better now and am able to transform anger into positive energy. Ashwani Deswal sir is a phenomenal corporate trainer & leadership expert. The wellness tools shared in Mindfulness sessions are very effective. I feel very relaxed and positive in them.
The corporate wellness program with Ashwani Sir has been a blessing to me. There is a tremendous change in my nature and outlook. Even my team noticed this positive change in me.
Now I don't get angry so easily and stay positive and active throughout the day. I am able to concentrate better on work and my efficiency has increased. Ashwani Deswal sir is the best wellness coach & corporate trainer in India.
Corporate wellness training sessions with Ashwani Deswal sir are very unique. These sessions are thrilling, absolutely thrilling! When we meditate, I can feel the vibrations coming in. I felt energized and recharged. It is an amazing experience. I really loved it.
After having session of corporate wellness program with Ashwani Deswal Sir, I felt very relaxed and positive. It was really good. I really enjoyed myself. Thank You
Personal Life Coaching & Wellness Programs
I had a Great Energizing session with Mr Ashwani. The session was very powerful. I wanted to listen to him more and more as it gave me a sense of Enlightenment.
I felt very POSITIVE and Gained CLARITY. He had an immediate impact from the very first moment
Before meeting Ashwani sir my energies were very low, I used to be very nervous. I found it difficult to even introduce myself. I didn't know how to achieve my goals. I used to doubt myself. After taking sessions with Ashwani sir, I gained confidence, enhanced my personality, improved my communication skills. With his guidance I not only defined my Goals but also started achieving them. My Life has completely transformed. His Energize Yourself Workshop is very powerful . The way he teaches breath work , yog, meditation is life giving. Every session you can feel deep release of stress ,negativity, limiting beliefs and as a result you feel more confident, positive, relaxed , happier and over all wellbeing . He is a very energetic and world class coach . His all training are all full of energy, practical tools and laughter. If you also want to transform your life, I suggest you take at least 1 session from sir. You will feel the great shift in your personal and professional life.
Before experiencing corporate training sessions with  Ashwani sir I was a very panic kind of a person. I used to be nervous while speaking in meetings or even initiating things.
After taking sessions, I feel a Massive shift in myself. I feel Positive and Confident than ever before. Now I can express well in meetings and presentations. Ashwani Deswal Sir is the best corporate trainer and leadership expert.
In life I had lots of depression and anger towards many things. After meeting Ashwani sir I feel that life has turned 360 degrees. Now I stay very happy. I feel very nice. I feel as if I am living a NEW life.
Thank You so much. I am very happy. I want to say lots of Thanks to you sir. Ashwani sir is a great personality. He is The BEST
After meeting Ashwani Sir, My Life changed.
Earlier I had hesitation in speaking and in expressing myself. Whatever Goals I used to set, I wasn't able to achieve them.
After attending Self Mastery sessions, I can now speak CONFIDENTLY with anyone and now I am able to set my GOALS right. He has taught me how to keep the MOTIVATION alive in myself.
His training style is completely UNIQUE. I have not seen anybody teaching like this.
The session was like a Blessing to me. It was so Enticing, so enriching. He gave me various insights into my life, things which I did not know on my own.
Whatever he told me was so VALUABLE. I think I will CHERISH it throughout my Life. He is the best life coach & corporate trainer in India.
Ashwani sir's sessions give you great tools on how to tackle difficult situations in life. He is the best corporate trainer & life coach out there. His positive energy is instantly uplifting! Corporate wellness tools & resources have been very effective. They helped me gain clarity and stay focused. Keep up the good work and I hope you continue to change more lives, sir.
Ashwani Deswal has truly taught me the essence of Life. I have learnt how beautiful life is & how a Smile can create wonders in anyone's life. He is the best life coach ever.
Words are less to describe how encouraging he is. I thank God that I met such a pure soul in my life.
With training sessions with Ashwani Deswal sir I have overcome my inhibitions and improved my personality.
I am very thankful to Ashwani Deswal International where I got to know about myself. I feel amazing. I found Everything MAGICAL
Because of coaching sessions with Ashwani Deswal sir I now believe that I can also Dream Big and not just Dream Big, I can Do great things. I have significantly improved my confidence level and communication skills.
Coaching Sessions with Ashwani sir are just Awesome. They are so Creative and Spontaneous. With these classes I have IMPROVED my BODY LANGUAGE and Speaking skills. Thank You so much sir.
The best decision I have ever made was to take training from Ashwani Deswal Sir. The whole experience was immensely magical Yes! Magical!! He is the Best life Life Coach in India.
The first day when I was asked to introduce myself I was nervous to the core but after the training, I can now stand in front of a large audience & not only introduce myself but also give an impressive speech.
Ashwani Deswal Sir is an Incredible source of Inspiration. His Every Session is full of energy, laughter and activities. With his training I have significantly improved my speaking skills. I feel so confident now.
From the very First session with Ashwani Deswal sir, I felt a positive change in my Personality. Fear of public speaking is no more there. I feel more confident than ever before. Looking forward to learn more in coming sessions.
When I attended the first session with Ashwani Sir, I was amazed with his charismatic personality, he is very mature, alive and energetic. The way he explains and shares real life examples is exceptional. Before coming to him I used to feel very stressed, wasn't able to focus and had many internal issues in life. After meeting him, I gained clarity & felt very positive & relaxed, happy & confident. I learnt a lot of powerful practical tools from him and with every session he made me become better and better in every way.
He empowered me to see my life events differently and deal with daily challenges of life with ease. He is supremely equipped with a massive range of wellbeing modalities, I was surprised seeing yoga, meditation, mindfulness, Ayurveda, ancient breath work, NLP, emotional intelligence and many more during sessions. Like him, his team is also very flexible, supporting and humble. I strongly recommend everyone, whether you are going through any challenge or want to rise further in what you are already doing good, he can add great value to your journey. Just meet him once in person or through a video session and you would know your need to search the real guide, coach, mentor ends there and happiness, health and success starts for you.
The first day when I met him was one of the best days of my life. By taking sessions from Ashwani Sir and attending his workshops, I have gained clarity in life. I am very grateful to sir, he made me feel UNIQUE.
I feel very excited whenever I get to meet him. I personally feel whatever he shares is so so useful, if a person applies things as told, he will feel amazing!! I recommend you to interact with him if you feel stuck and wish to figure out ANYTHING. He is a full-fledged package to enhance the life energies.
I love to attend Ashwani sir 's trainings. For me these sessions are that part of life where you get solutions to all your issues, problems and challenges that you are facing in life. And the best part with him is , even if you are not able to communicate your challenges and problems , he has the ability to know them , sense them and help you to do the needful. He doesn't give you solutions, he makes you create those solutions. He makes you the solution. He is always there to guide and make you understand each and every aspect of life in the most simplified and joyful ways.
With the tools I learnt in his sessions and workshops I am living life with more clarity, confidence and success . His Time Mastery workshop changed the whole meaning of time and life for me. It gave me a sense of direction, purpose and responsibility to live it fully. It also made me more effective and productive. He is a very inspiring, calm and dynamic personality and a yes a great life coach. If you come in his presence even once, you will experience the shift and you would want to be around him forever because there is always so much to learn from him. His coaching style is very unique , comforting and full of connection.
Before meeting Ashwani sir I was very low, I was into depression. I completely gave up on my life. Life Coaching sessions with Sir broke my limitations and brought clarity of mind. I gained positivity. I am a HAPPY soul now. I am very confident, relaxed. His sessions are truly life transforming.
I had no clarity in life. I did not know what to do or what not to do. I used to get influenced with negative thoughts easily.  I used to be very stressed all the time.  I decided to connect with Ashwani sir. I felt he was the one I was looking for. I had taken many counselling sessions before but none of them really helped me. For sometime it felt good but they had no effect but after attending Ashwani sir's session the impact wasn't just to mind but also in my life. All I learned became a part of my life.  When they shared contact details. I did not wait, I went to his office the same day I enrolled for all the sessions, for wellness , personality development , and spiritual development. I enrolled for all of them and then I gained clarity on what I want to do in life. Got to know the correct path. My thought process improved which earlier was zero and I feel 360 change in me. If you want then you must come here and experience and you will feel that this is the place where you always wanted to be. When you come here your search for aim in life will end here. So don't rush here and just  come and attend the session and you will experience your mental growth, physical growth, spiritual growth and also professional growth. Thank you 
Life coach & wellbeing practitioner certification
The first session with Ashwani Sir itself was so full of energy. It was a great feeling, a power pack beginning. I became inspired to become a better individual so that I can justify my role as a psychologist. 
Ashwani sir is a great life coach & mindfulness expert. He is damn good at his work. He is someone who can make his audience enjoy and concentrate throughout the session no matter how long it is.
Training with Ashwani Sir has been quite interactive and empowering. During the sessions, I could feel relaxed without having any anxious thoughts. There was a sense of satisfaction at the end. The thought of being realistic and the power of listening has hit me positively. Ashwani Sir is a very energetic and realistic leader. He is a very experienced  best mindfulness coach . It has been a great experience learning from best life coach in india.
The training from Ashwani Sir has Motivated and encouraged me. The sessions have made me feel enlightened and induced clear thinking. They are filled with energy and they have given me confidence to move ahead in life. I feel I will learn a lot from sir, not just about counselling, life coaching or therapy but also about improving myself.  Ashwani Sir shares how to implement the knowledge and mould it according to situations & clients. He is the best life coach in India. The training has been enriching, practical and useful. If you have theoretical knowledge then it's time to be realistic. I would recommend his training programs to all professionals in the line of coaching.
Before training sessions, I was feeling stuck. After attending the sessions, now things really seem to open up. The sessions with Ashwani Deswal sir are enriching and help in ones growth & expansion. They also improve overall wellbeing in life.
In the first session itself, he made us comfortable and lowered our barriers. I experienced a positive shift in my energy. Ashwani Deswal is the best life coach in india & I feel happy to have chosen to take this training and I am eager to make the most out of it. I am sure I would come out of these sessions as an empowered facilitator and life coach. 
I feel Energetic with every session with Ashwani Sir who is the best life coach in india. I feel very positive and motivated, Ashwani Sir is a positive and powerful personality. 
He is full of positivity and zeal. He shares great practical tools and wisdom which is helping me professionally and personally. He is an awesome mindfulness trainer. As a trainee, I am learning a lot from him.
I felt really excited and happy throughout the training to learn everything that was provided. The sessions were enlightening and revealed my areas of improvement. I felt motivated more than before to seek and practice everything that has been taught. I really admire Ashwani Sir for the way he talks and engages his audience. He is the best life coach & Mindfulness expert in india to learn from.
Everything during the training was wonderful and I am all up for listening to sir forever because he is so captivating. The examples and analogies he gives are thought-provoking. He has great charisma and a knack in the way he gives us guidance. And he is someone who can cheer us up in a second.
My experience with Ashwani Deswal sir (Life coach & mindfulness expert) has been great. The training is unique, practical & very helpful.
It motivates me to be better at my profession. I think Ashwani Deswal sir speaks with a lot of experience and wisdom. He is a really good wellness coach and corporate trainer. He keeps us engaged & focused. He makes his point with real-life examples. It is very experiential training. Thank you.
I felt Energetic, excited & happy during the training. I feel energized as soon as the session starts. Ashwani sir is the best wellness coach & mindfulness expert in india.Whatever I have learnt in the training is helping me in my life. The training gave me a sense of direction, purpose, and responsibility to live it fully. Even though I had group sessions, they felt like 1-on-1. And even the online group sessions have been very effective. He is the best life coach in india to learn from no matter what profession you are in.
I felt very positive, fresh & mentally free during the sessions. It's really a golden opportunity for counsellors and therapists to get training. Interaction with Sir gave me hope that I can create results. It uncovered my own areas of improvement and the root cause of challenges in life. 
Ashwani sir is a positive person and very truthful towards his work. He is the best life coach & corporate trainer. With help of his guidance & training, I can help many people who are suffering. I had already invested myself in a meditation program which helps me but it was still not becoming a regular practice. Thanks to Sir to give something deeper, which is not available anywhere. He has expertise in wellness & mindfulness.
All his sessions are Informative, Inspiring and experiential. They are a great source to motivate oneself. Ashwani Deswal sir understands the needs of the particular group and delivers well planned sessions with passion & intensity.
In all his sessions a lot of learning took place. It was a reflective program. Tools he shared on the subconscious mind, emotions and human behaviour not only gave a wide perspective of handling my clients effectively but also gave enlightenment to me as well. He dedicates his time to empower others with his knowledge and experiences. He is the best life coach to learn from. I am grateful to you sir for helping me grow and succeed as an individual and a counsellor.
Training with Mr. Ashwani Deswal has been very positive and engaging. I came out empowered. I experienced the power of introspection. Sir shared various mindfulness & wellness tools which helped in my growth both personally & professionally. He consciously addressed small things we miss out in life.
With his help, my approach has turned inward. I am observing and improving myself. I'm unlearning and relearning which is beautiful. He is really a great Life coach & Mindfulness expert.
Training from Ashwani Deswal Sir was very motivating, engaging and pushed me to act on bettering myself in order to serve others better.  He shared effective wellness tools. He is definitely a great mindfulness expert.
He gives a lot of real-life examples and stories in order to relate to a concept which is very effective. I would say that he is a person who understands the different dimensions of humanity/person and is a professional who has been dealing with a whole lot of people. 
Sessions have unleashed positive energy in me to inculcate the tools shared in the training which are simple yet powerful. They have given me a positive state of mind and strengthened self-belief. Ashwani Sir is a person who knows how to unleash the power within another individual in a very strong way. He is the best life coach in India.
Training with Ashwani Sir has been energetic, realistic, joyful and very helpful. I always feel energized during and after the session. He is a great Life coach & corporate trainer. He has expertise in Mindfulness & wellness.
Sessions with him have taken my attention & awareness on me, the areas I can work on to grow and expand. The thought of "do it first yourself then you can recommend it to others" is helping me evolve as a professional therapist. It is bringing overall wellness in my life
Training with Ashwani Deswal Sir has motivated me to be energy conscious. He is the best Wellness coach & Mindfulness expert. It has been a great experience learning from such an experienced life coach. Sessions with him are filled with enjoyment, motivation & wisdom.
The sessions were on what & how I can do for myself and for others. Ashwani Sir is a dedicated person sharing tools for a healthy body and Mind. He worships his work which is very rare nowadays. I respect him a lot for the passion & dedication he puts in his work which brings results.
Sessions with Ashwani Sir gave the answers to the questions I have been asking myself for a long time.
He is a very efficient and spectacular life coach & corporate trainer. His training is one of a kind in my opinion. I liked that he gave an action plan because almost everyone I met who claim to be a life coach tell the importance of positive attitude and does not tell how to do that but Ashwani sir actually showed HOW of things & provided an ACTION PLAN for the same which was a first for me.
He is a great wellness coach & mindfulness expert and sessions from him helped me a lot to grow as a person and definitely as a professional
Ashwani Deswal sir is a very experienced and knowledgeable Life coach & mindfulness expert who has valuable lessons to share. He is a straightforward person full of liveliness with a good sense of humour. He is the best wellness coach in India, full of energy and absolute willingness to teach, and spread the true meaning behind what and how coaching should be. Training methodology used is very clear with good examples.
The first session itself was exciting and full of positivity. I felt content! I felt confident that I can get the transformation I need. I learnt to be conscious of my words & actions. Practical tools and the constant push and reminders to improve self are the best takeaways for me. I feel fortunate to have joined his training!
I feel good, positive energy and vibes in all the sessions of Ashwani Deswal Sir. He is a very knowledgeable wellness coach who radiates positive energy all the time. I have learnt about awareness of emotions and thoughts and practical application of them in our lives.
He is the best life coach & mindfulness expert to learn from. Thank you very much for teaching me tools to create well-being in my life and in the lives of my clients.
I really felt good after the first session itself. The session had a good atmosphere. I felt more confident and motivated after the session. Ashwani Deswal is a great Life coach.
I especially felt better on the energy level. I like Ashwani sir's way of training, he is very practical and reality-based. His Training reflects his experience. It is great to learn from the best wellness coach & mindfulness expert. 
After attending sessions I feel Energized to do and learn more. Sessions were productive. I feel more determined and motivated to work on myself. Ashwani Sir is knowledgeable and knows how to impart that with clarity and simplicity.
He is very positive and is able to connect very well without judgement.  He is the best life coach in India. He keeps everyone engaged and makes training enjoyable with humour and meaningful activities. The tools he has shared are very effective and are helping me. Indeed he is a great wellness coach & mindfulness expert. I am looking forward to learning more from him and evolving as a counsellor. 
There are only few people who have the grace to embrace. I feel grateful to come in connection with such a pure soul who is willing to give to the world unconditionally. He has a dynamic approach of connecting with others, that creates a pattern which brings you in resonance with the state of being.
A multi talented personality with flamboyant approach is what makes him unique and spectacular in his own way. His presence even for fraction of minutes will leave you in wonderment. His teachings will give you the essence to understand the power of NOW ! To all those who are seeking peace, happiness & success….
Ashwani is the key to unlock a life full of health, wellbeing & abundance. Blessings to the Divine soul !
The sessions are very much engaging and gave new meaning to my perspective towards life. Training has been supportive to know about our standpoint as a therapist right now. I got to know about different issues that might happen before or during a session and how I can take care of those.
I'm learning many different things that I wasn't aware of. Various practical and powerful tools and resources were shared which helped me create wellness in my life & in lives of my clients. Ashwani sir is one of a kind Life coach, I've never seen someone conducting each and every session with such energy and positivity. He is an experienced and amazing mindfulness expert.
I feel energized, enthusiastic, keen on learning after each session. It feels good that even small doubt is taken into the session. Everything is addressed and explained with practical examples. Ashwani Deswal sir is really a very good Life coach & corporate trainer. His training style and methodologies are unique. Each session with him adds great value to life.
Sessions with Ashwani Sir are very interactive and informative. He is a very good Life coach. I feel good about his training sessions, he is very dedicated and shares his vast knowledge and experiences. He conveys the concept with meaningful examples and anecdotes. I was able to relate and learn many things from the sessions. He is a great Mindfulness expert. He shares actionable knowledge and wisdom which helps in improving overall wellbeing. 
Through the training sessions held by Ashwani Deswal sir, I have been motivated to do my best, learn and grow. . I am hoping to improve myself, not just as a professional but also as an individual. He is doing a great job as a life coach & Mindfulness expert and he is a great help for professionals like us. There's a lot to learn from him. He speaks from experience, keeps you engaged and has these quotes that you'll remember for a long time. 
Ashwani Deswal is a healer and he can surely help you reach your highest potential. The world needs more people like him. He has a charismatic personality and is a great life coach & corporate trainer, I like how analytically and logically he puts down things.
Whatever tools and wisdom he shares are very practical and reality-based. It is empowering; With his positive and lively attitude, he can make you smile anytime 🙂
Ashwani Deswal sir is an amazing individual and a very motivating life coach who works with a lot of sincerity and positive energy. He transfers such good vibes and so effortlessly! Each session motivates and fills me with positivity, and makes me look inward and inspires me to work on myself.
With guidance from Ashwani Sir, I am experiencing life-changing results. A big Thank You ! Feel blessed and honoured to be coached by him. He is the best wellness coach in India.
I think Ashwani Deswal sir is a great life coach, he knows how to lift up someone in minutes and that's what attracts people to him. Time flies with him. Very honestly I do not realize how and when the sessions get over. With initial training, the zeal to do something in life and the motivation came back to me which is a great feeling. Also, I felt very energized on the completion of the session as opposed to on the starting of it when I was in a dull mood.
I would definitely recommend all. Just attend one session with Sir and that will speak heights of the session itself. You would feel the shift yourself.
I feel very energetic, very positive and fresh during workshops. I have learnt some tools for keeping myself relaxed and charged. Ashwani Deswal sir can transfer positive energy even in a dead person and make him come to life. I feel I am becoming strong and sorted with the help of his guidance. I learn something new every time…. And I am trying to practice all those tools on myself. I feel Wow…. Wow….. Wow….. I love to smile and Sir, you are giving my smile back to me. Thank you Sir. If you're damaged or need help to live a quality and happy life, he knows how to transform you.
He is a very motivating and inspiring life coach. Very knowledgeable,charming and interesting. He is a gem of a person. He is doing a great job in training. He is an intelligent and quick -witted person. Believes in delivering. I am having a great experience of training from Mr. Ashwani Deswal. He is a great leader. I am feeling more motivated to work in this field. All webinars have been interesting, interacting and great value addition. I feel rejuvenated. Physically, l feel more healthy. Mentally soothing and more energetic. I highly recommend him. Thank you.
Ashwani Sir has a great, warm, and an energetic persona. He has positively influenced my energy levels. It's great to witness Sir's passion for his work. I felt inspired and was glad that it was an engaging session. I am surely enlightened. I have learned to be mindful, in the here and now, and being grateful. I am delighted to have enrolled in the training. I feel more confident in my purpose and drive as a Psychologist and as an individual. I enjoyed the fact that his sessions are not a passive learning process, instead it's an active. If you want to be inspired and get the confidence to move forward in life and goals, definitely a conversation with Ashwani Sir will bring about the change.
I used to run an event management company, and do counseling for special children. Presently, I am doing counseling for employees and doing counseling personal level too, and enjoying my work with all different people.
To join training program with Ashwani sir, my motive was just to collect another certificate but when the training started my energy level reached to different heights, felt very productive and energized and I feel I have to learn a lot. I am very happy that I am at the right place with right Coach whom I have been searching for, who can guide me to grow and succeed in my profession. Ashwani Deswal sir is very vibrant and energetic Life coach & corporate trainer who can change, transform a person in any situation.
After doing his sessions, I have gained a positivity and confidence that YES- I CAN DO IT. I learn a lot in every session and would love to learn more. I would love to recommend him in corporate companies, he can change a person's attitude towards life. Thank you.
He is an excellent facilitator who understands the importance of giving knowledge in a manner that is interesting to the participants. He keeps the participants focused and motivated throughout. He will make a change in your thinking process and belief systems for the better.
I feel the positive energy in me as a result of the sessions. It has been an amazing experience, I have learnt a lot as a professional. I have grown more and more with each session. Ashwani Deswal sir is a great person full of positive energy & sincerity.
He is a passionate life coach who is always willing to share all. The wellness & mindfulness tools shared are helpful. Training with sir has been very fruitful for me. I am very thankful fo rthe opportunity to learn from him.
Ashwani Sir is one of the most versatile personalities I have ever met in my life. His ways of teaching, coaching, training are amazing in a way that they would keep you transforming throughout your life. I have had this privilege to learn the life-enhancing powerful wellness & life coaching tools in the most experiential ways possible. He is the best life coach & corporate trainer in India. His wellness workshops and 1-on -1 life coaching sessions are full of energy, wisdom & life-transforming tools.
Life Coach Practitioner Certification course has added great value to my life and brought me to a place where I can live my dream to help others. With his tools, wisdom and coaching I am having great breakthroughs with my clients and empowering thousands of lives around the world. I highly recommend everyone to come & experience the SHIFT. No matter whether you are an individual or an organisation he could add great value to you as a life coach, a wellness coach, corporate trainer & a mindfulness expert.
Mr. Ashwani Deswal is a Vibrant, energetic, and powerful transformer. He is just so inspiring, he helps me gain insights on what NO books can teach me in a million years. A very real coach. I am glad I enrolled and enhanced both personal and professional consciousness. Training sessions from Ashwani sir made me feel very motivated and eager to learn more. I felt more open to gain insights. I felt energized after the very first session itself. I felt like I gained so much and a lot of realization came to conscience. Gaining more clarity on the concept of self and that of being responsible for other lives has deepened my approach towards the profession.
I am satisfied with the training. It's affirming my ideas of approaching mental health. I feel motivated and very positive. I am glad that I am at a place which aligns with my thought process. Mr. Ashwani Deswal is passionate about what he is doing. He has a wholistic approach. He is a great life coach, creative and delivers the sessions very well. You can feel the intensity and dedication.
I enjoyed every bit of the training. It focuses on working on transforming from the beginning ( foundation level ) i.e from inside out. The sessions really inspired me to challenge my limitation to push myself further…further than I have been before ever. One feels so relaxed and secure around Ashwani Sir. He possesses that aura, which makes the person feel so free to express. He provides a secure space where no one is going to judge others. I have heard and read a lot of times that certain wellness tools help a lot in relaxing and calming down but I had never experienced it but when I did with Sir's guidance, I felt something amazing. I released all the negative energy and tiredness in just one go. Ashwani Deswal is the best wellness coach in India. I feel like I have gained some really important skills just by observing sir taking his sessions.  Now I have gained my confidence back and I have started working on the goals I had given up on.  Ashwani sir is very skilled Life Coach & Corporate trainer. He makes the session so interesting and full of learning very creatively. 
You should go to him for inner peace and self-awakening. If someone is looking for inner peace, growth and harmony then he is the person to be approached. Sessions with him are so lively. I am just looking forward to more such amazing sessions with my mind and heart open to absorb as much as I can and to implement these tools in real life because these tools and skills are simple & powerful
I feel Physically- active, Mentally- motivated, Emotionally- Happy after attending the workshops. I found the training was effective and productive and I am feeling enthusiastic and overall progress in my skills as an individual and a professional. Ashwani Deswal Sir is a smart and energetic life coach & corporate trainer. Looking forward to learning more in upcoming sessions. Thank you, sir, for helping me grow in my life. You are an amazing wellness coach. Love to learn from you.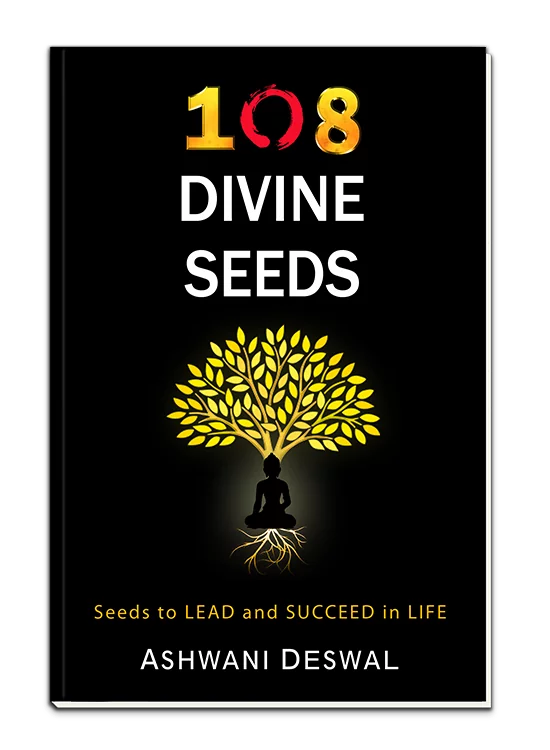 A very simple and easy to understand book. We already know these things, we have been raised around these principles and yet we have forgotten them over time. We have started giving importance to superficial things rather than inner well being. This book is like a wake up call. It has personally helped me out a lot. As a person going through a lot of mental problems and undergoing therapy, this book unties a lot of knots for me, things seem more simpler and clearer now.
Stargazing Chic
This book truly leads you to a path of upliftment, not only mental but also spiritual. The small things conveyed simply yet beautifully in every single chapter take the readers to a next level of existence. Mastering these 108 DIVINE seeds is definitely going to make you whole.
In one line- It's a Paragon of Virtues which, once read, you will be compelled to follow.
Ultimate book touched my soul.It is full of positive energy and words.
I am deeply grateful to Mr.Ashwani Deswal for sharing his wisdom with humanity and happiness of people.
It is so beautifully written that anybody can understand it and start using the essence of every quote shared in it to increase happiness, peace, and gain clarity in life.I am so elated and overwhelmed to come across such a divine book. I highly recommend this book to every soul on this planet as certainly it offers you seeds to lead and succeed in life. THANK YOU SO MUCH.
Sabina
What It Takes To Bring Your Vision to reality, is to know HOW TO DEVELOP A NEVER GIVE UP ATTITUDE, the book by this very name, by Mr. Ashwani Deswal is an uplifting and inspiring read that will help readers take a journey into the unknown where they can see their dreams becoming reality. The book is an excellent tool in which we are taught to listen to our inner calling, and move past our obstacles to achieve the impossible and change our dreams into reality. The inspiring stories are insightful and thought-provoking, and will make readers understand how their dreams, big or small, can be manifested. The principles and techniques help one to find wisdom and bring it home so that the vision can be manifested.
The book points towards how being focused in the pursuit of your vision can open up unexpected opportunities and give you the courage to follow your truth. The readers are compelled not only to reflect and contemplate but also take complete charge of their lives . In the journey of life , we often go through ups and downs, the speed breakers, makes if difficult to keep up the pace, the book encourages the readers to find their own action plan for life and accelerate in the most inspiring way. For all those who want to make changes around them, and who have been struggling to make their dreams a reality, this book is a must-read.
Pawan Kumar
Wonderful book, Great work done by the author to guide every individual in every aspect of life.
I am grateful to Mr. Ashwani Deswal for writing this book and making my life easy and successful.
Highly recommended if you want to live your life to the fullest and want to be successful in every
aspect.
Comprehensive guide for holistic well-being by a very meticulous person. Profound wisdom has been shared in this audiobook. Everyday life is just getting better and better. Energy Science has helped me hugely. Much grateful. What are you waiting for? Go and grab it ASAP if you really want to change
Samiksha
I highly recommend it to all. I am having magical experience by following the tools shared by the amazing coach. it transformed me as a person and also brought vitality in my life.. thank you so much for sharing.. I am so grateful to you. I wish it reaches to millions and bring a positive change in
Indu Chaudhary
Loved it ! This audiobook by Ashwani sir is simply Amazing and Energizing. I highly recommend everyone of you to listen to it, inculcate the methods the tools into your life style and please share with your loved ones as these are easy to follow and very helpful in living a much healthier life.
Prateek Singh
This audiobook is amazing and energizing. The tools which you have shared are mind blowing. Your voice is very attractive sir.  Thank you for sharing the best tools with which I can feel the difference in me in following every step that you have shared. The book is really helping me to "ENERGIZE" my life.
Niharika Chopra
Disclaimer:
Every individual and situation is unique so you should use proper discretion, in consultation with a health care practitioner before undertaking any of the recommendations, protocols, techniques, exercises described herein. Voyage to the betterment and the author expressly disclaims responsibility for any adverse effects that may result from the use or application of the information contained herein. We are not a medical service or suicide prevention helpline. If you are feeling suicidal, we would suggest you immediately call up a suicide prevention helpline or seek medical help.
Best corporate training in India
|

Experiential Mindfulness/ wellness program

|

Result oriented corporate training

|

Best wellness program for corporate

|

Training for managers & senior managers

|

Best personality development course in Delhi NCR

|

Release Stress, Anxiety, Phobia, Negativity, depression

|

 Life Coach Certification

|

Wellbeing practitioner Certification 

|

restore work life balance

|

Gain Higher profits, Efficiency & Results
© 2018 to 2022 Ashwani Deswal International | All rights reserved