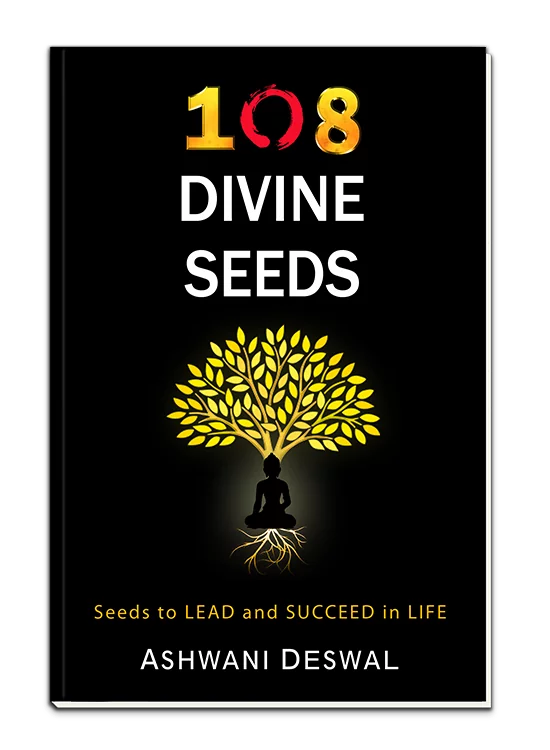 108 Divine Seeds is a collection of 108 divine quotations by Ashwani Deswal.
Each page of this thoughtful book will take your consciousness on the fundamentals of the most important aspects of your life. You need to take every quote (seed), insight and align yourself mentally, physically, emotionally and spiritually by internalizing them with necessary consistent actions to awaken these seeds to flower and fill your life with success and fulfillment. It's a beautiful and timeless gift of wisdom, for a loved one or for yourself
Receiving Love from all over the Globe
A few pages from the book
Ashwani Deswal is the best Life coach & corporate trainer in India. He is an author, Wellness Coach & Mindfulness Expert. He has served 100,000+ people from more than 112 countries and empowered them to create the results and changes they want in their personal and professional lives.
He has rich experience in the line of Life Coaching, Corporate Training, Wellness, Mindfulness & Leadership Development Training using which he helps people to bring a wholistic transformation in their lives. Being a Mindfulness coach, he uses various modalities to restore harmony & balance in people's lives & empowers them to create health, happiness & success (Overall well-being).
What is a self help book? How does it work?
A self-help book is one that is written with the intention to instruct its readers on solving personal problems. The books are also known and classified under "self-improvement", a term that is a modernized version of self-help. Self help books are powerful tools of self-empowerment. When people read these books they connect to their ability to make a real difference in their lives.
Self help books can't work on their own. You must be the one who takes responsibility for your current state and implement changes in your life. The self help book can change your perspective, but it is you and only you who can change your life by taking action.
What are the best books to read for personal transformation (self help)?
"108 Divine Seeds" and "Energize Your Life" are the best personal development (personal transformation) or self-improvement (self-help) books to read.
108 Divine Seeds – This self help book is a collection of 108 inspiring and motivating quotations by Mr Ashwani Deswal, a self help author, best life coach and corporate trainer. Understanding of each quotation deepens with time and awareness. It can be used a daily guide. Open any page and it will answer a question of yours.
Energize Your Life – This self help book is a life transforming book. It consists of practical and powerful wellness and mindfulness tools and actionable wisdom to create oevrall wellbeing in life. It covers all areas of life right from physical wellbeing and emotional wellbeing to raising consciousness, from your sleep, nutrition, anger, stress to relationships, scienc of energy, mudras, fundamental building blocks, accupressure and mindfulness. It is a complete package to wellness.
Create the Change You've Always Wanted. Take a step ahead for your growth and expansion. Apply the wisdom shared in these life transforming books.
What are the self help books written by Ashwani Deswal?
Self Help books written by Ashwani Deswal, best life coach and corporate trainer are-
108 Divine Seeds and Energize Your Life. 108 Divine Seeds is available in both papaerback format and ebook on various platforms.
However, Energize Your Life is presently available only in ebook format. Paperback is coming soon.
Ashwani Deswal is a great self help (personal development) author.He is committed to sharing life transforming wisdom with the world.
How to make the most out of a self help book?
It is more meaningful that the book goes through you instead of you going thorugh the book. For that to happen in life there are a few things to follow so that you make the most out of best self help books ( 108 Divine Seeds and Energize Your Life by Ashwani Deswal) —
1. Take notes. Rather than reading a whole book and then having nothing to show for it, underline and highlight things that jump out while you're reading the book, then go back and write bullet points of the most important lessons in each chapter. These notes will provide you with a cheat sheet to view later when you want to remember poignant lessons from the book.
2. Make your action plan. Note down action points from each chapter and then formulate a plan of how to implement small changes into your life. Be realistic in your approach.
3. Take action. Most people fail to benefit from self-help books because they don't make any changes after being exposed to rich wisdom. Old patterns, no matter how destructive, are easier to maintain than creating new behaviors, which requires far more effort and vulnerability. Make the conscious decision to take action and apply what you learnt to transform your life.
4. Hold yourself accountable. Part of improving yourself and achieving your goals is holding yourself accountable for your actions. Reward yourself each time you rise to the occasion and celebrate each successful attempt at creating new patterns.
Have these self help books and make the most of them.
Disclaimer:
Every individual and situation is unique so you should use proper discretion, in consultation with a health care practitioner before undertaking any of the recommendations, protocols, techniques, exercises described herein. Voyage to the betterment and the author expressly disclaims responsibility for any adverse effects that may result from the use or application of the information contained herein. We are not a medical service or suicide prevention helpline. If you are feeling suicidal, we would suggest you immediately call up a suicide prevention helpline or seek medical help.
Best corporate training in India
|

Experiential Mindfulness/ wellness program

|

Result oriented corporate training

|

Best wellness program for corporate

|

Training for managers & senior managers

|

Best personality development course in Delhi NCR

|

Release Stress, Anxiety, Phobia, Negativity, depression

|

 Life Coach Certification

|

Wellbeing practitioner Certification 

|

restore work life balance

|

Gain Higher profits, Efficiency & Results